Is fishing in August worthwhile?
Fishing in August is a bit like the curates egg – good in parts! Sometimes the fishing can be outstanding, especially when we get a second run of fish (usually every other year.) At other times it can be slow going, especially on a low, clear river. Given regualr rainfall, fishing conditions in August can be very good and the state of the river along with the stock of fish, and how recently they entered the river are the factors which are the main deciders. Generally speaking, there are more coloured fish in the river (residents) but salmon run Gaula throughout the season and we often get fresh fish in August.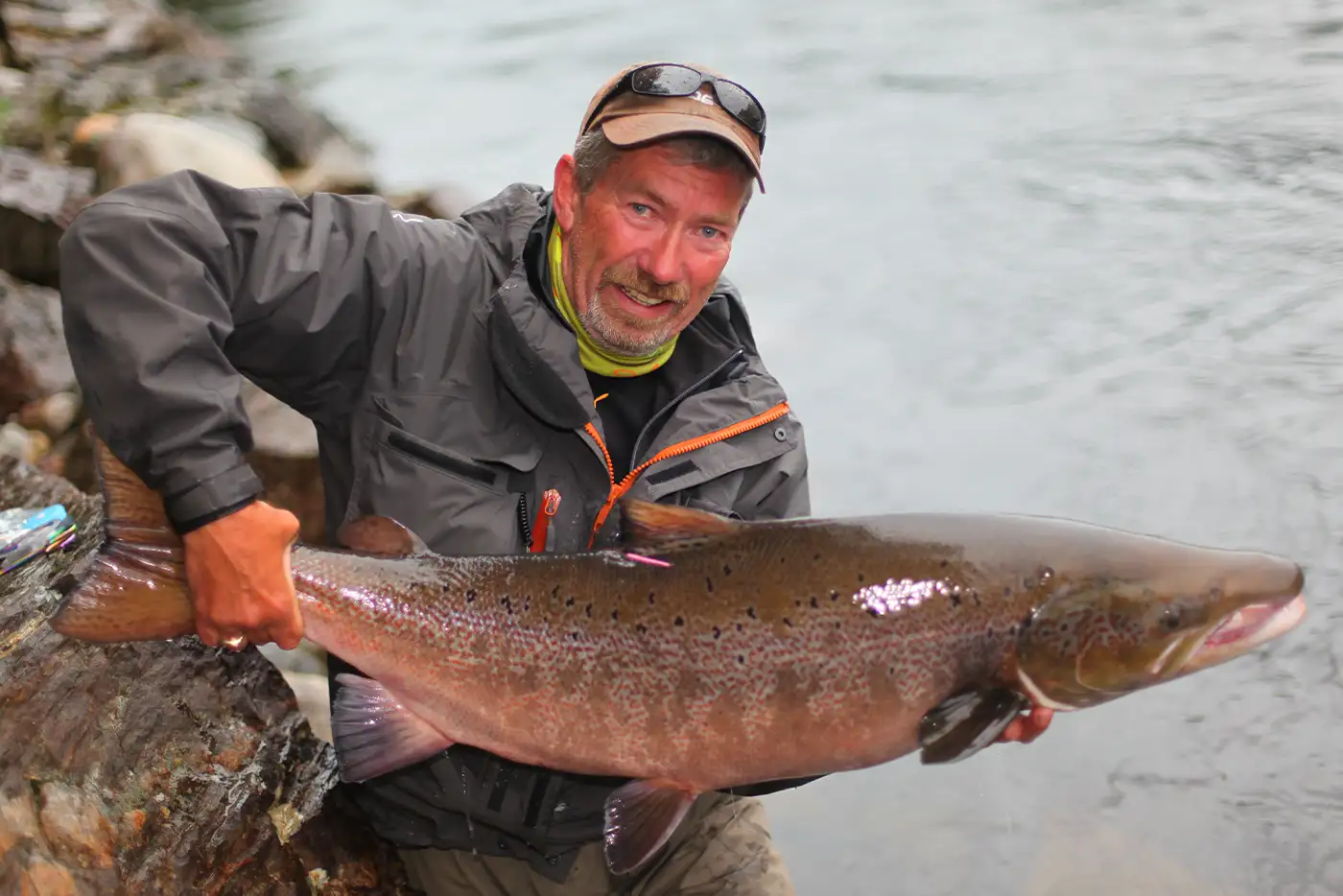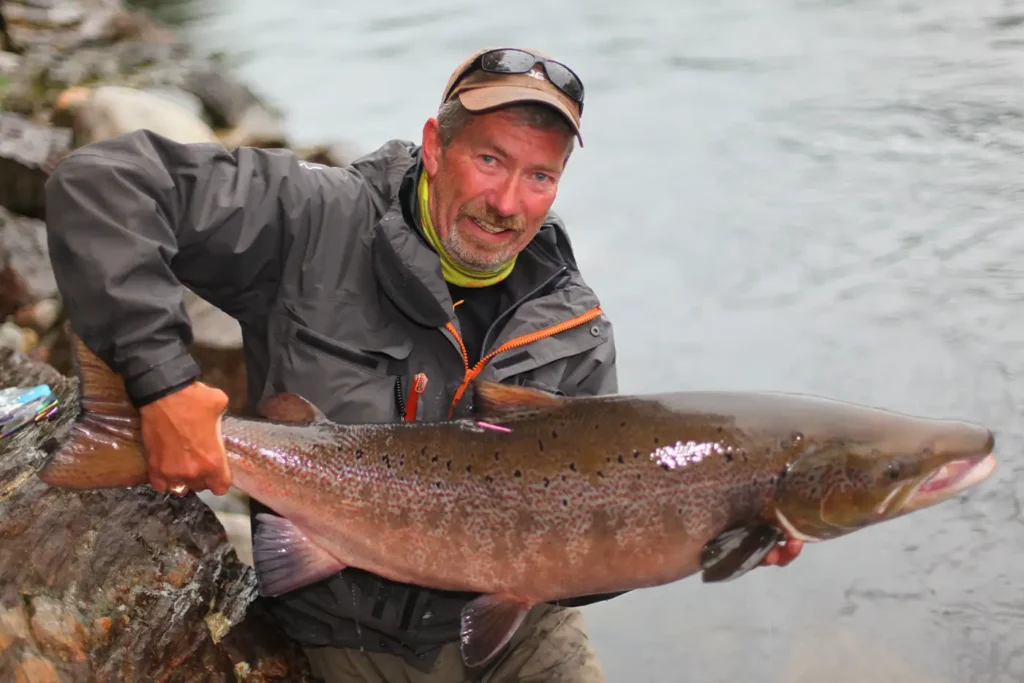 A typically coloured August salmon caught by Stein Thorvaldsen during an August flood. Regular rainfall and a dynamic river will deliver a decent chance of sport. In the latter part of the month, big male salmon like this fish are often caught either immediately as the river begins to rise or when it has dropped back and semi-clear.
How to Approach Fishing in August
Generally speaking the river will be lower and clearer in August than in mid-summer. This means that presentation of the fly and controlling the drift speed become very important. I regularly use lighter equipment in August. An 8/9# rod is my usual choice and I will reduce tippet diameter down to about 0.37mm (22 pounds).
Single hand and switch rods are a viable choice, especially in really low water when the current will not move the fly fast enough to tempt the fish. Whenever stripping of the fly is involved, a single hand rod becomes an advantage, allowing the angler to strip the fly back to the rod tip whereas with a regualr double hand line, the fly needs to be picked off and recast much sooner in the retrieve.
For switch and single hand fishing I prefer rods that are not too light. I have used some ultra-light gear in the past but have come unstuck with big salmon several times. Nowadays, the lowest I like to go is 8/9 double hand or a 7/8 switch. Single hand rods can be 9 or ten feet long and rated at #8 or #9.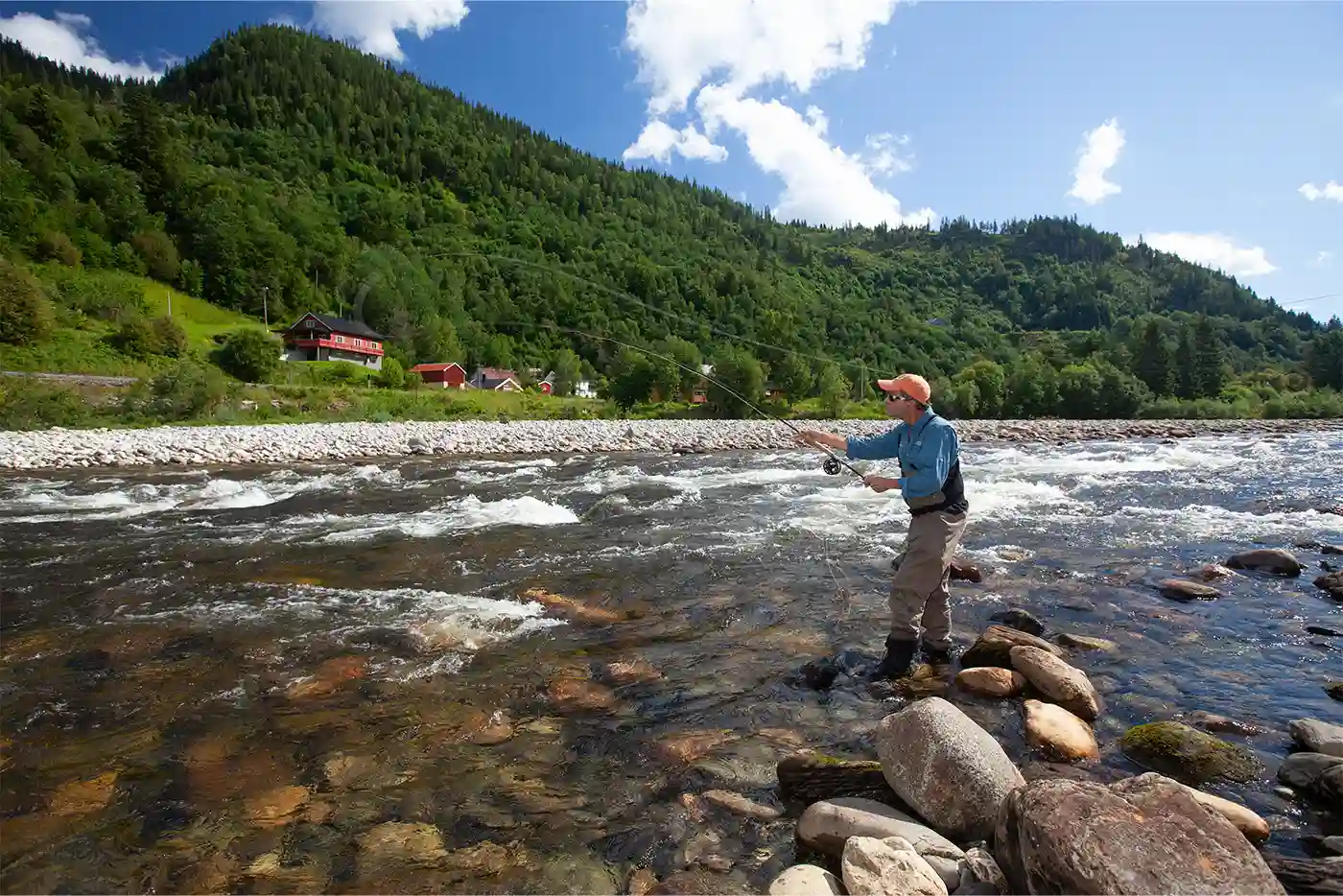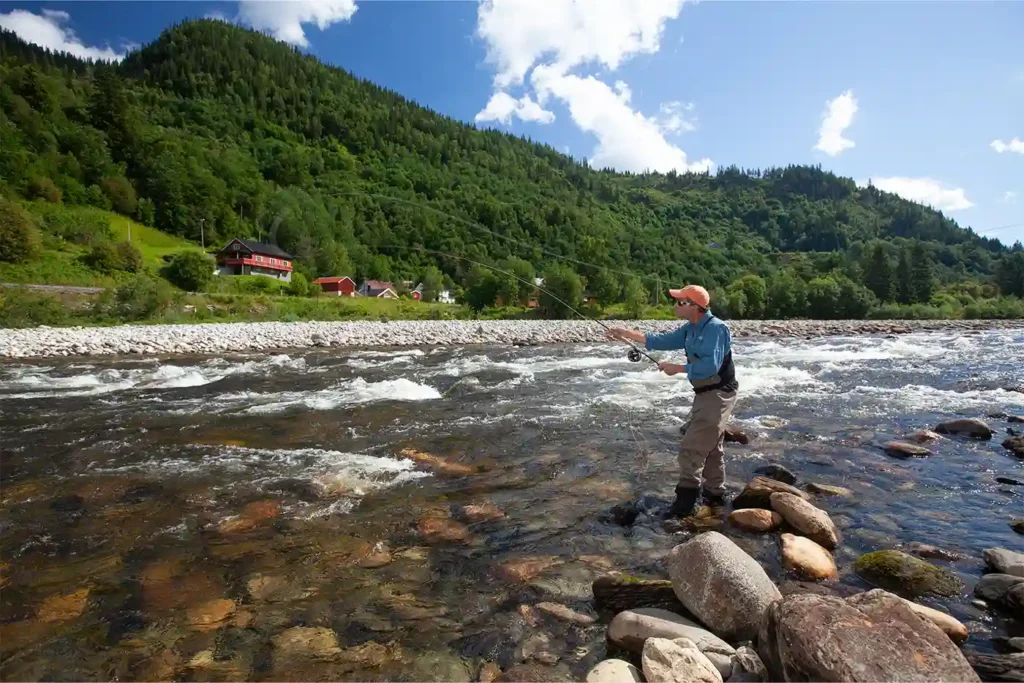 The author fishing with a switch rod in August when the tail and head of the pool, where the flow is often strongest, are the places to concentrate on. August fishing can be as technical as you want to make it and it is fascinating…
The key to catching salmon in August is to be flexible. When the river floods, fish can often be found in the edges and long casts and sinking lines are unnecessary. When trying to present the fly in shallow water, floating to sink 1 level lines are ideal. Sinking lines are actually more useful when the river is low and dour, allowing anglers to get closer to resident fish. 
Since much of the fishing takes place in low to medium water, the biggest problem facing anglers is the fly not drifting fast enough to interest the fish. Gaula fish like flies moving at speed and it gives them less time to think about whether to take or not. The faster fly triggers the instinctive reaction of the salmon far more often than a fly drifting at a slow speed does. Chasing the flow is the name of the game and this can be most often found at the heads and tails of pools. We have some very good water for August fishing and our number 1 and 7 beats are particularly good when the rest of the river is struggling. Fihdin in the fastest water will give your fly a better drift speed.
In really extreme conditions, as the river shrinks, we begin to fish in the fast, rapid channels in between the pools and this is very exciting fishing indeed! I like to use a floating line with a heavily weighted tube fly and quite a short leader when fishing among the white water, boulders and snags. The fly should plop into the water and cut through the surface turbulence – tungsten and brass bottle tubes are my favourite.
When the river is carrying extra water, it often goes dark, like ale. The water is at its worst when it is muddy and opaque. When it is dark, like ale however, it tends to be transluscent. In this situation, fishing is viable as fish can see the fly.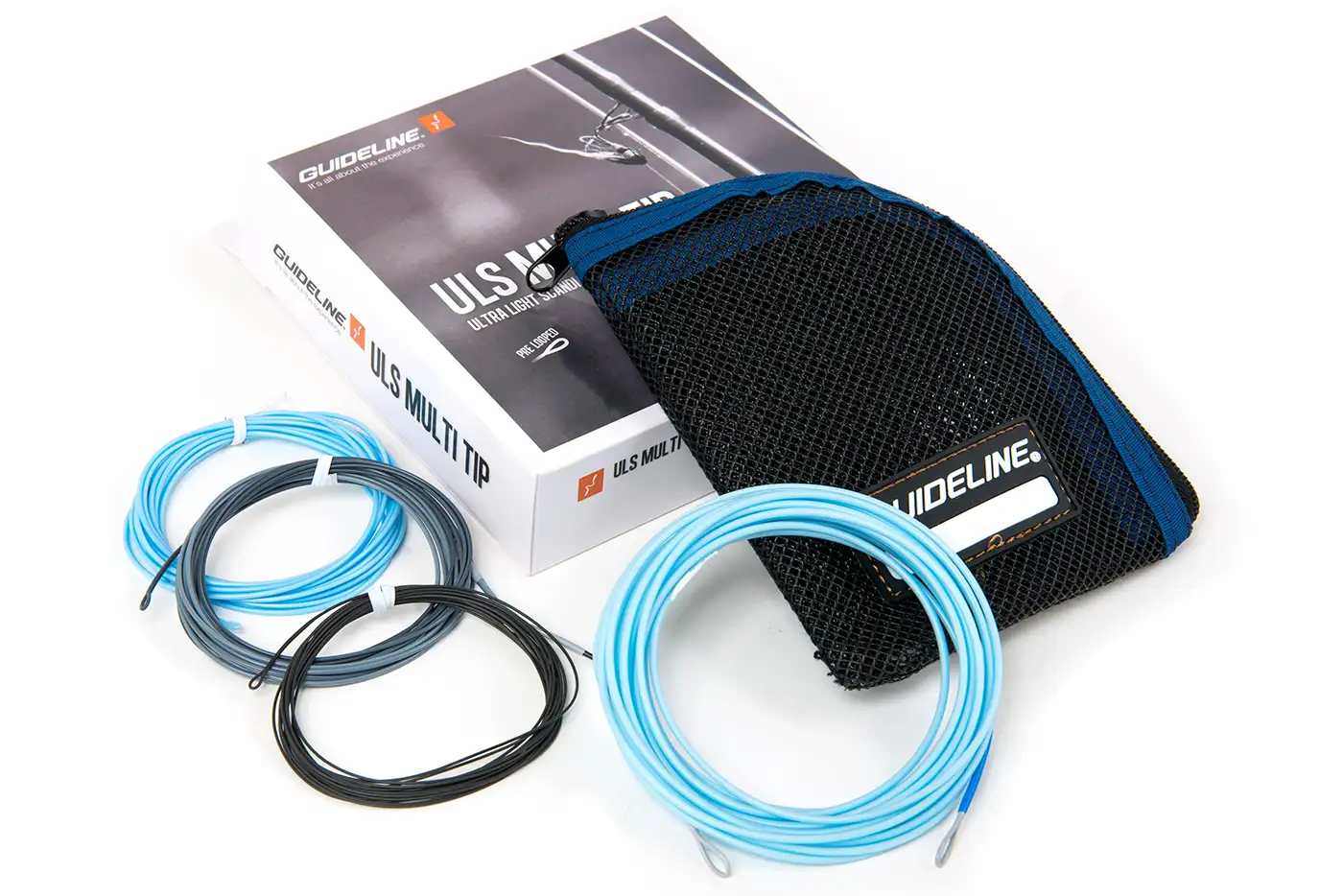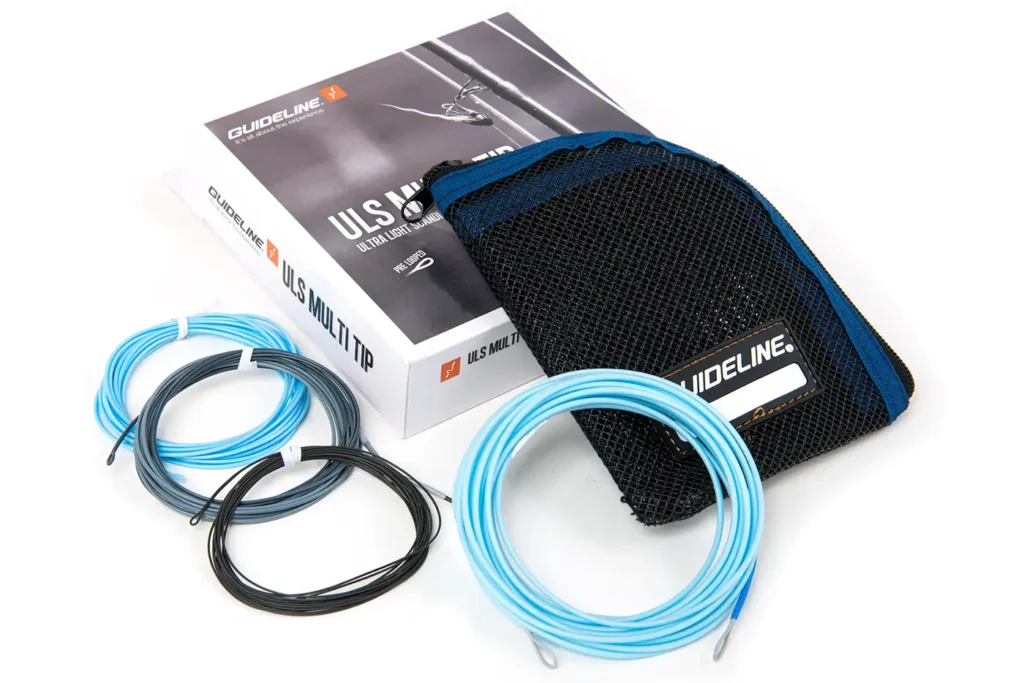 The Guideline ULS series of shooting heads work well with lighter salmon rods…
Fly choice is very critical in August. Generally, we use smaller, sparse flies in comparison to earlier in the season. Jungle cock eyes and large amounts of flash are often a deterrent to resident fish that see a lot of flies. Bright eyes and flash call attention to the fly and this is what we do not want. Ideally, we want the fish to see the fly at the last second and that's why small, drab flies tied with earth-tone colours do well.
However, when the river is almost black in colour, tiny, dull flies don't work very well. In this situation, larger flies with brighter colours work best. Flash too can make a difference and flies like Steffen Granbo's flash-tail series have worked very well for us.
In dark water, combinations like black and orange, black yellow and orange (Munro Killer etc.,), brown and orange, orange and red (flamethrower) are the flies to turn to.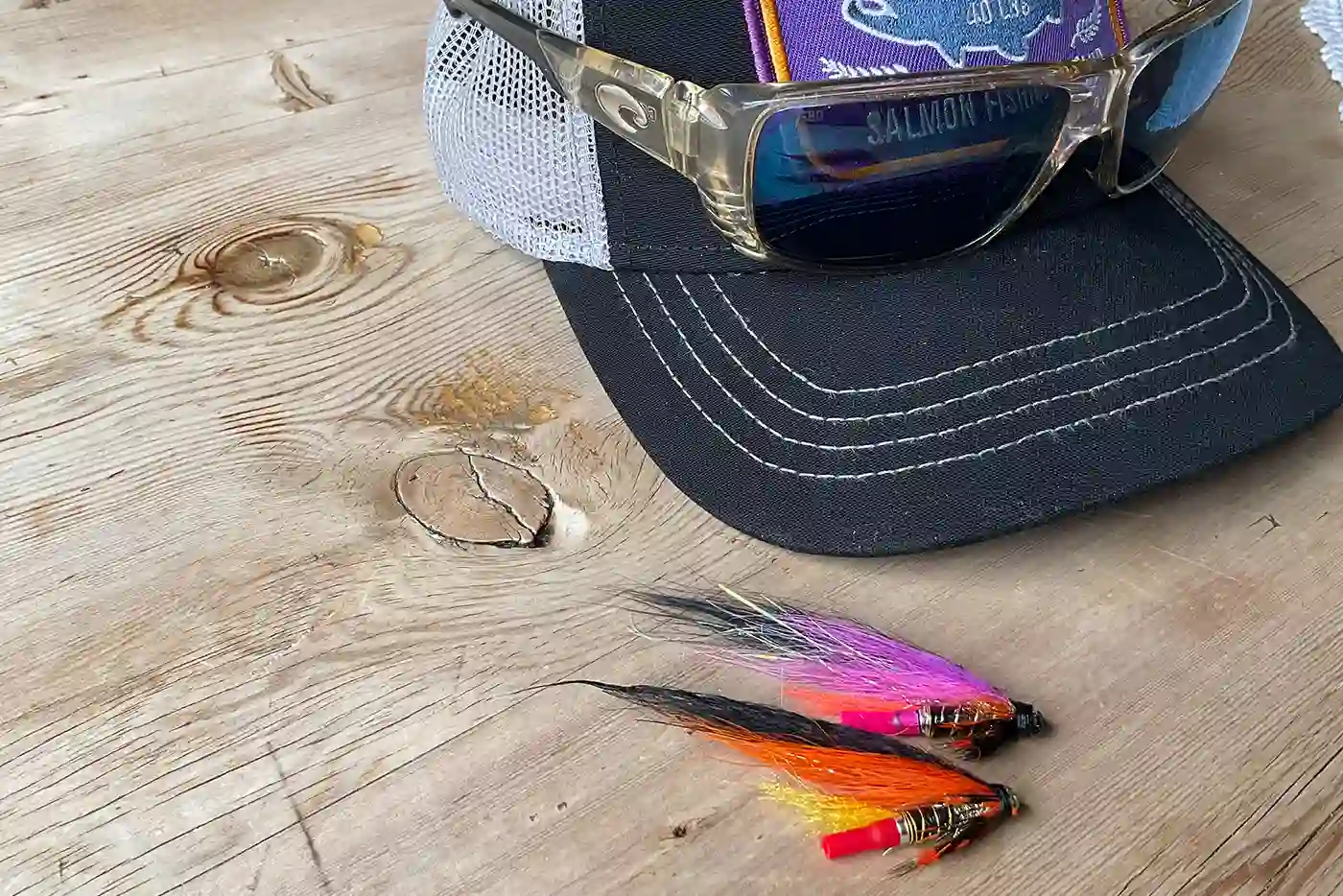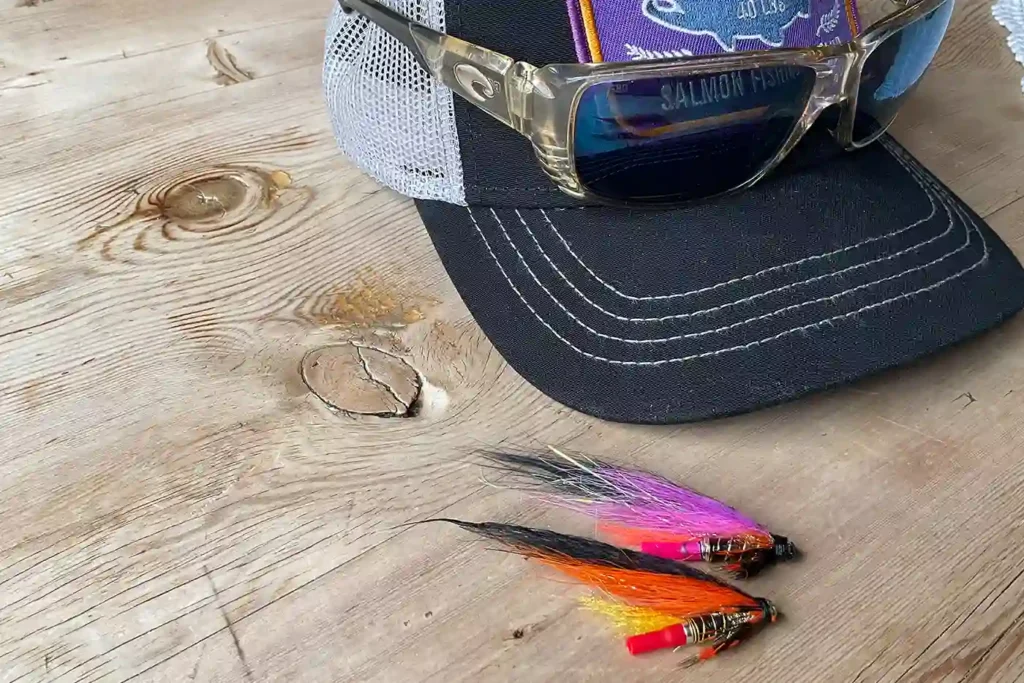 Flies for fishing in really dark, stained water should be high contrast with brighter colours. They need to get noticed!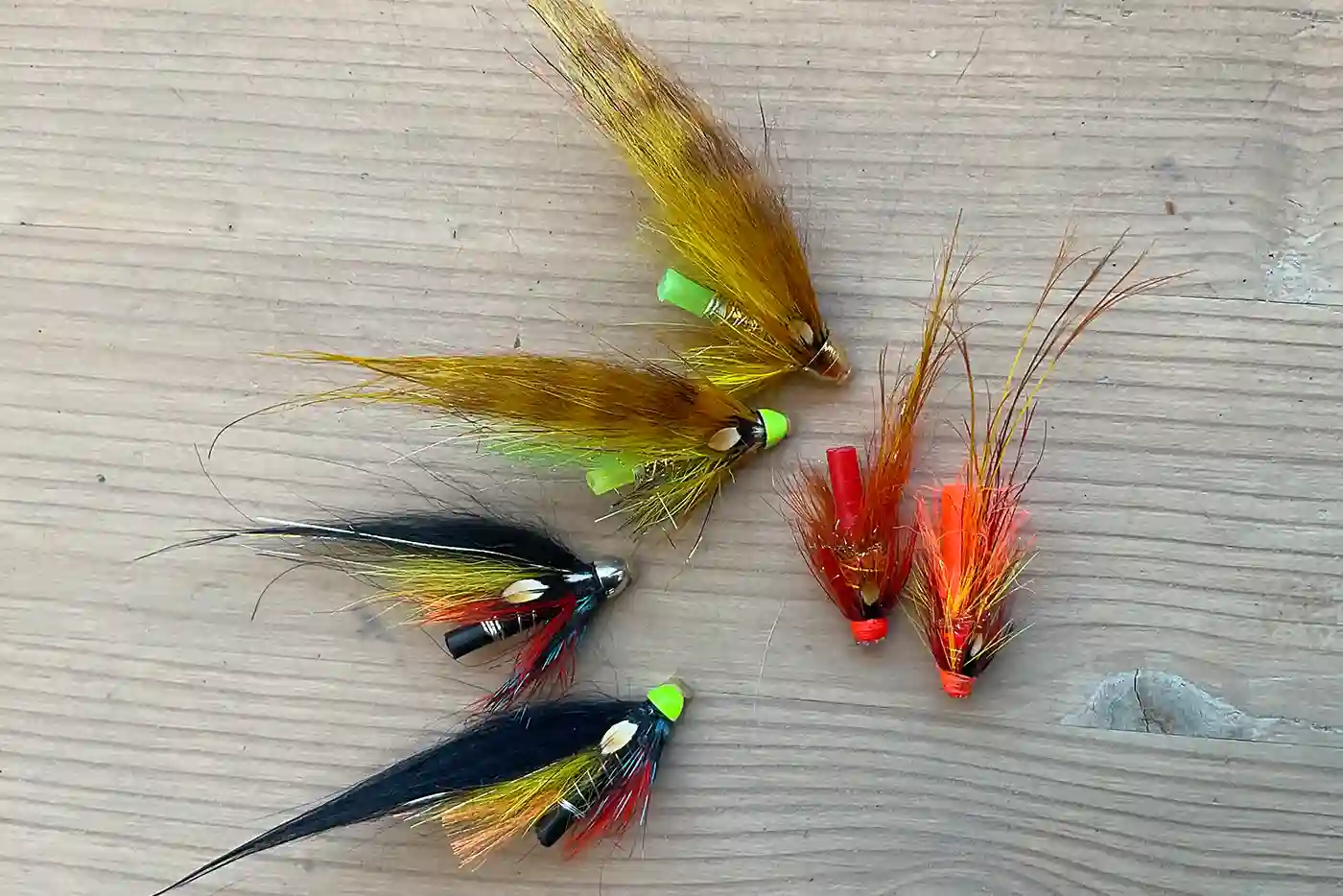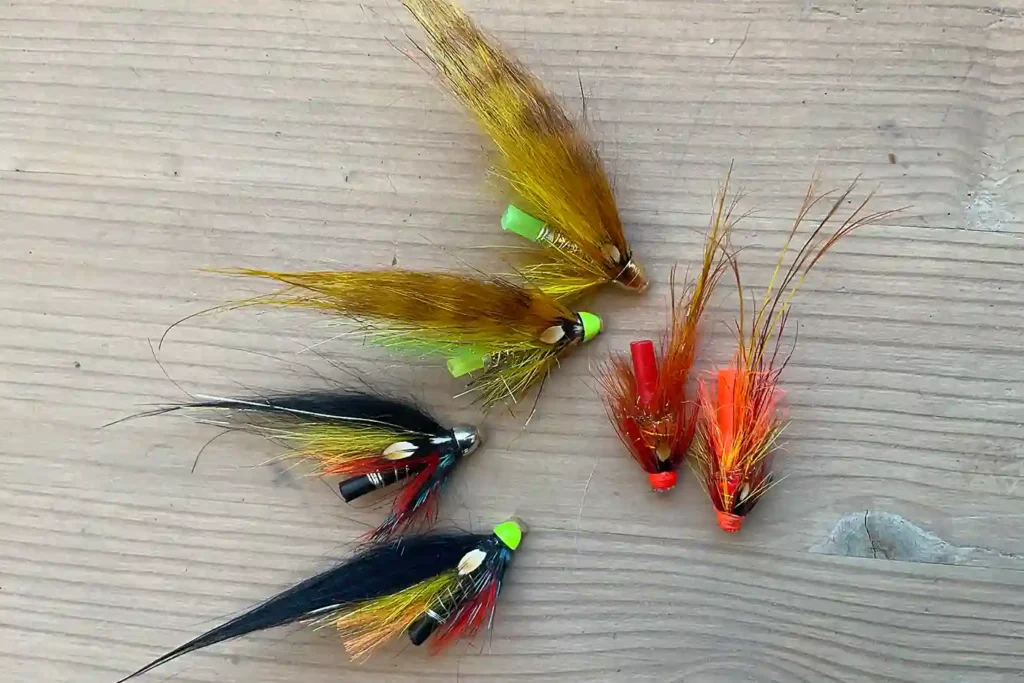 In coloured water, high contrast flies work much better than dull flies. More flash and 'bling' can be included, the colours sharper and brighter…the pig flies on the right are tied with late-season colours in mind.
As the river begins to lose its colour but is still tinted, flies that really come into their own are the classic Phatagorva, the Martinson (see our fly fishing blog section)  and the Willie Gunn, arguably the best fly in salmon fishing! 
I prefer to tie the Willie Gunn in the 'old style' by using mixed and stacked bucktail in three different colours. The blending of the colours (black, orange, yellow) helps the fly to become more ethereal and indistinct and critically, harder for the salmon to see until the last moments.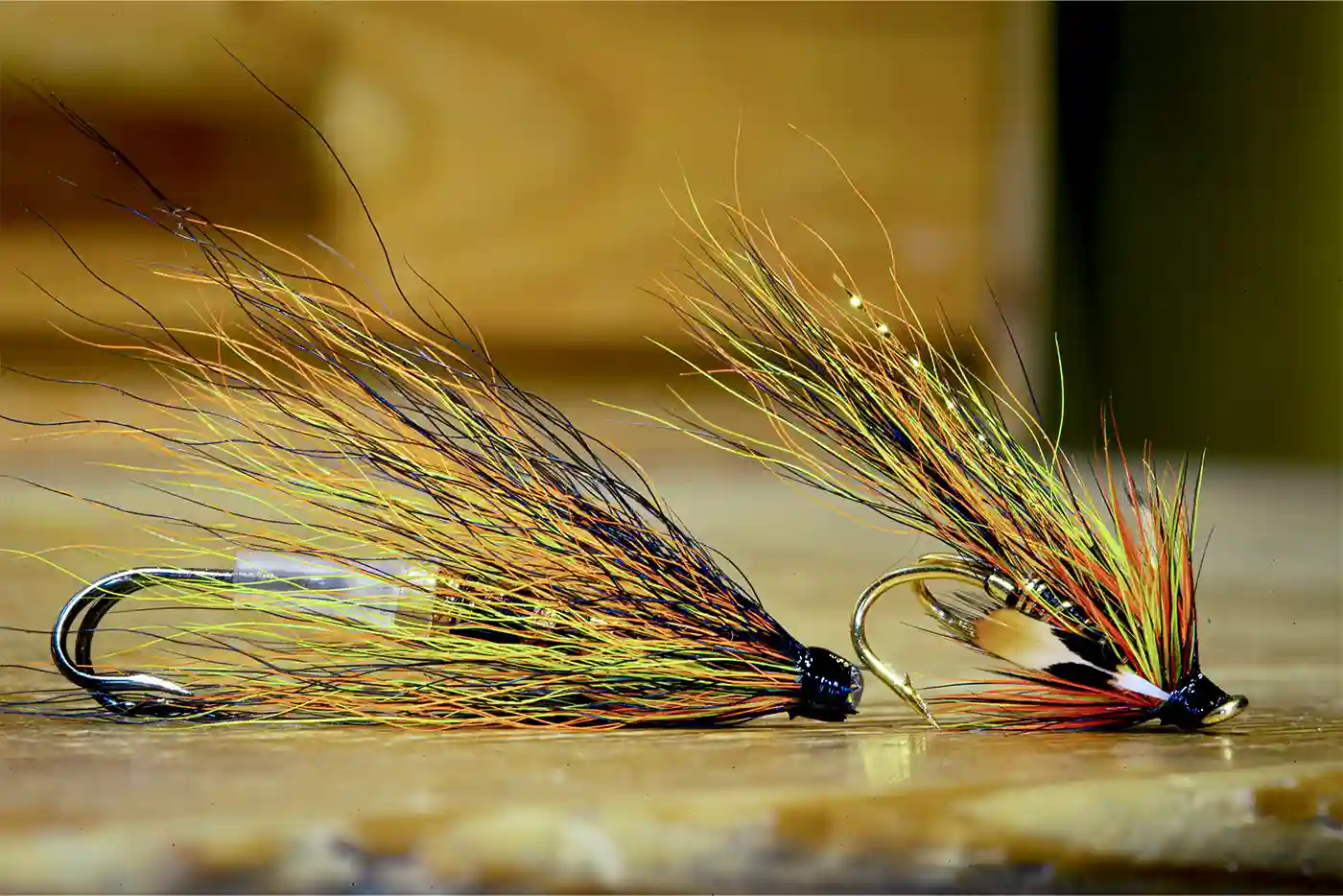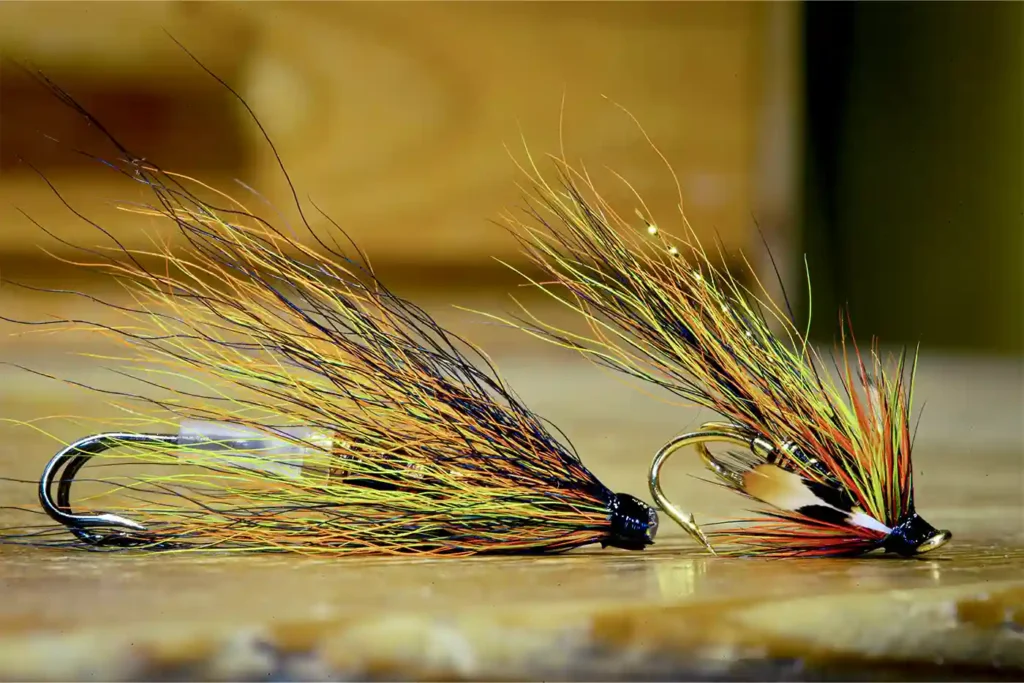 The Willie Gunn is proabably the world's greatest salmon fly. It can be tied as a tube or dressed double hook fly. I prefer the mixed fibre technique, it makes the fly more ethereal and indistinct than a fly with colours that are stacked into the wing.
In low clear water, flies that work well have little or no flash and are mainly earth tone flies. Dirty yellow, amber, brown and olive flies seem to work the best. Mostly we use small tube flies down to 1.5 cm and coupled with a size 12 double tube fly hook.
We also do well with Sunray Shadows in various sizes and of course the shrimp-style flies such as the Frances and Pot-belly pig. Sometimes a fly that does not blend in with its surroundings is the key and provokes an aggressive reaction such as the Granbo Flashtail series or a Flamethrower. At other times, very small and very sparse dressed doubles down to size fourteen with a sparse pinch of fibres gets the result. I have been regularly surprised at just how sparse and tiny the flies are that some big fish will take. A favourite here is a very traditional Norwegian fly known as 'Heggli.' Flies like this work well in low clear water. Other favourites include nasty banana, 'the Usual,' Stoat's Tail, Black and Red Frances and Blue Charm.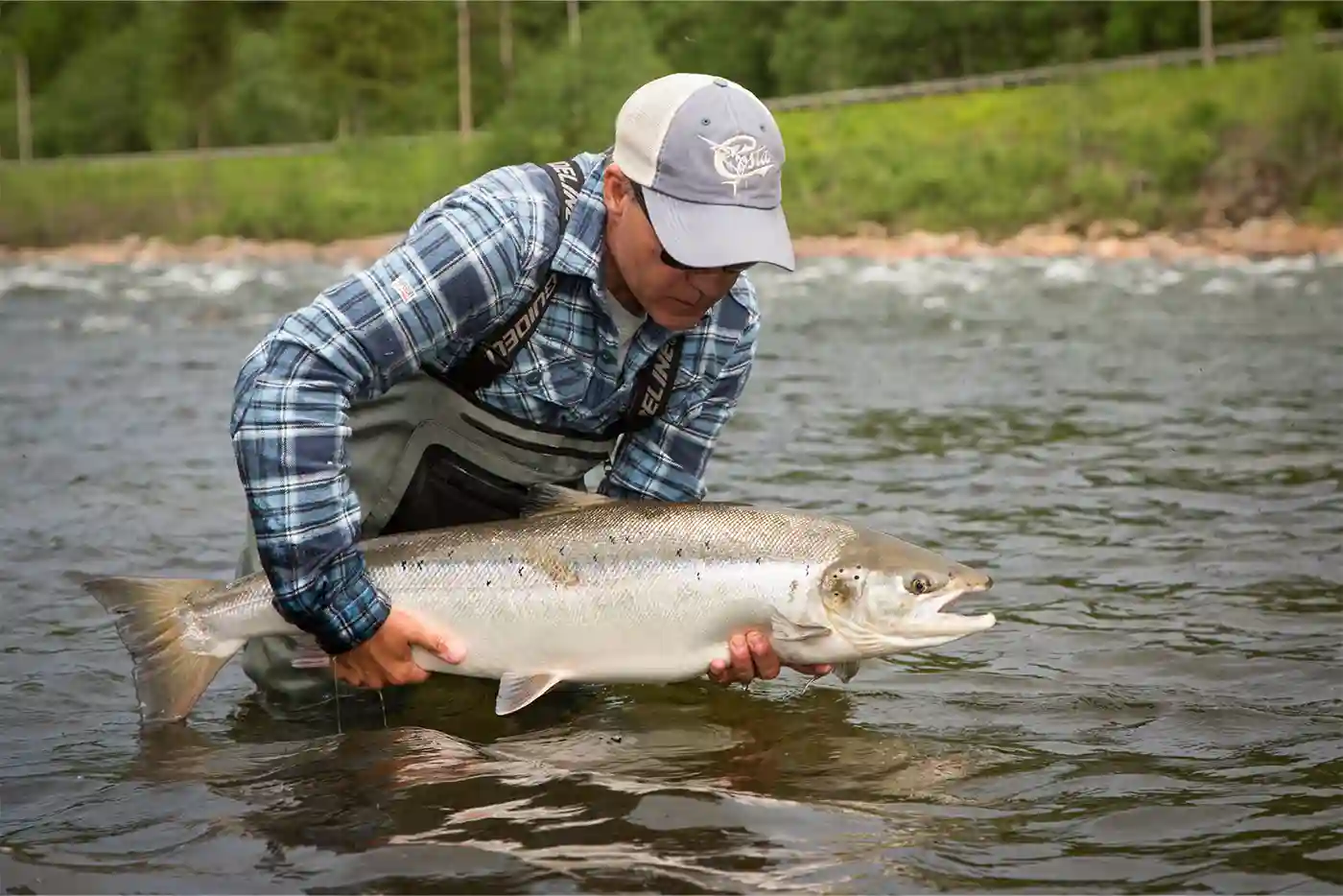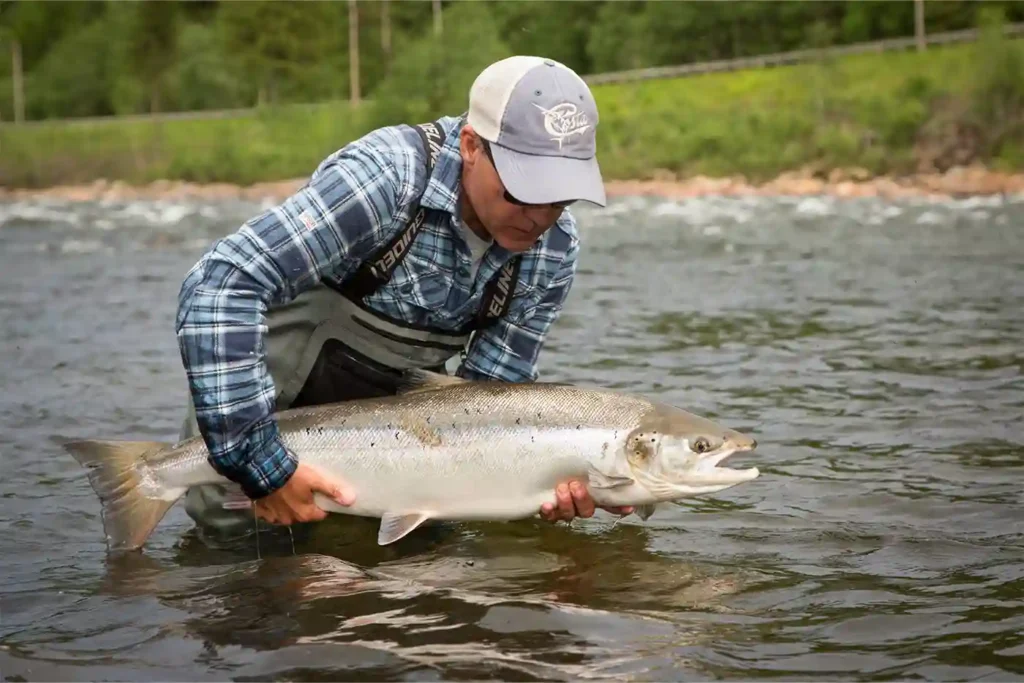 Big fish will take small flies, very small in some cases. This fish was caught on a sliding mini-bottle tube dressed as a banana fly.
August is a time for catching a big fish, especially the resident males that so often show during the season but don't get hooked. The fishing can be slower, true but it can also be electric. Since my time is limited in June and July, most of my fishing is done these days in August. You catch more coloured fish but the fishing is interesting, challenging and often productive.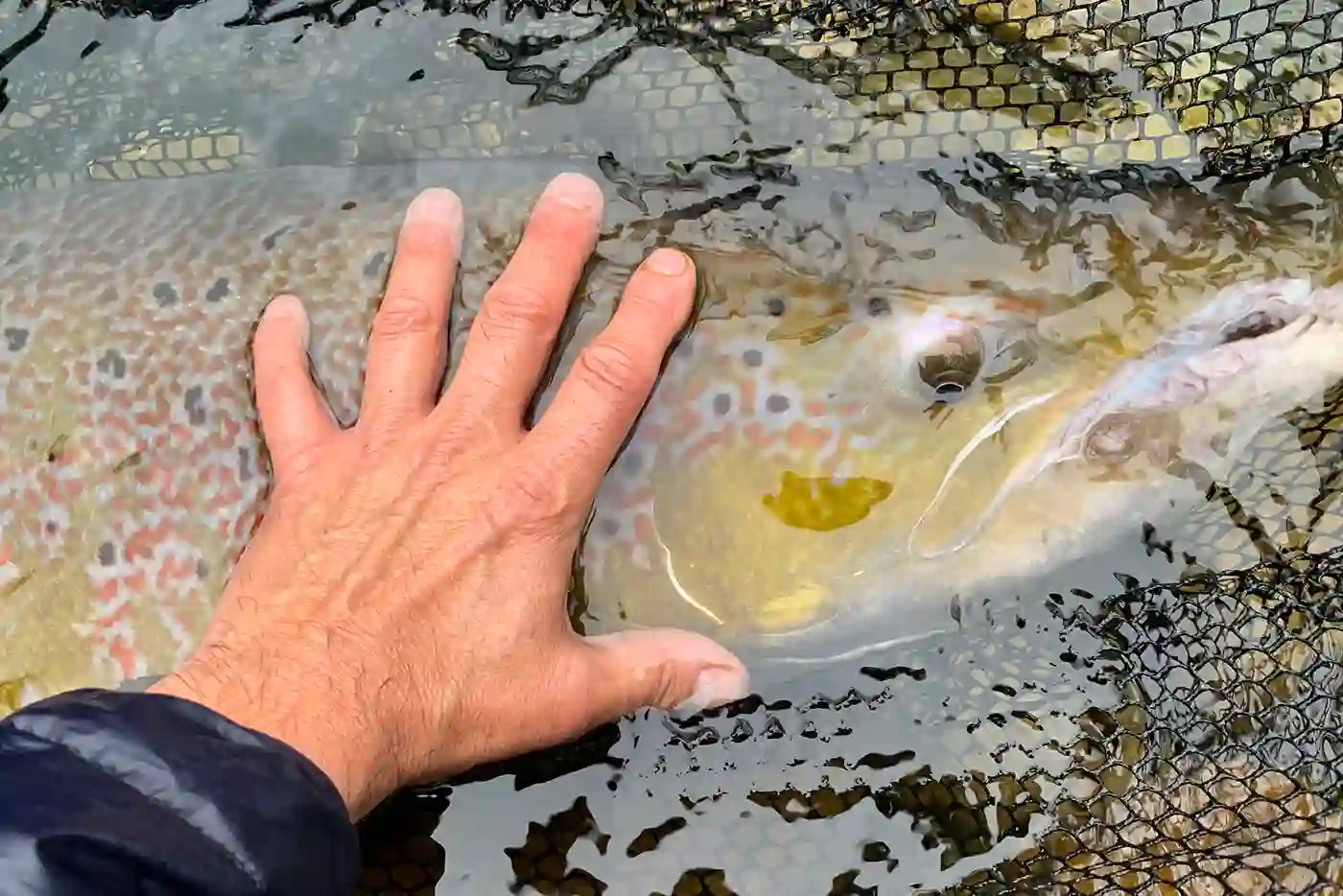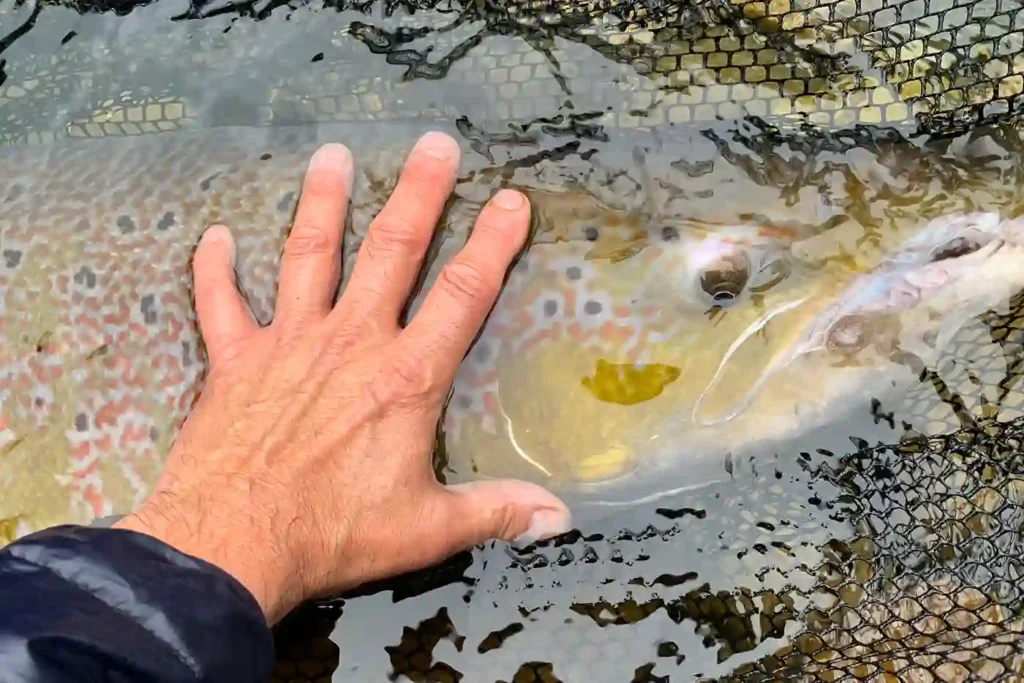 Big male fish are often caught in the mid to late part of August…
If you fancy fishing with us in August, you might like to know that our rod limit is reduced to six anglers per week. This is to give the fish more resting time by reducing angling pressure. Fishing in August will also get you into our system and improves your prospects of getting one of our top weeks in future seasons. The fishing is cheaper, of course, than it is in June and July to reflect the greater risk with regard to water conditions. You can find August packages on the 'booking' part of this website.