EQUIPMENT RECOMMENDATIONS
You've taken the leap and are headed to Norway, specifically the Gaula River and our lodge. Here, we've compiled valuable insights on rods, lines, and essential factors to ensure your trip becomes truly memorable.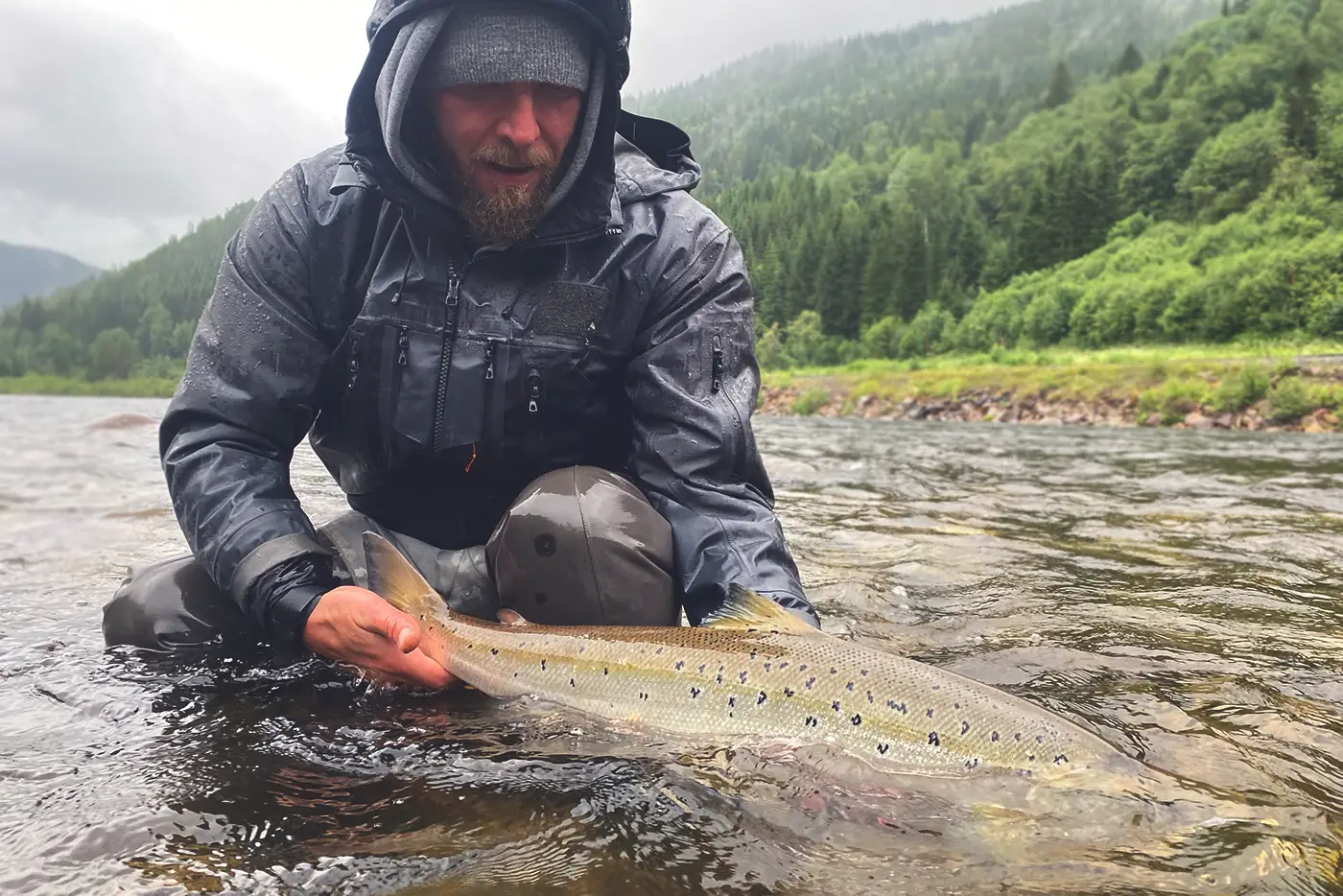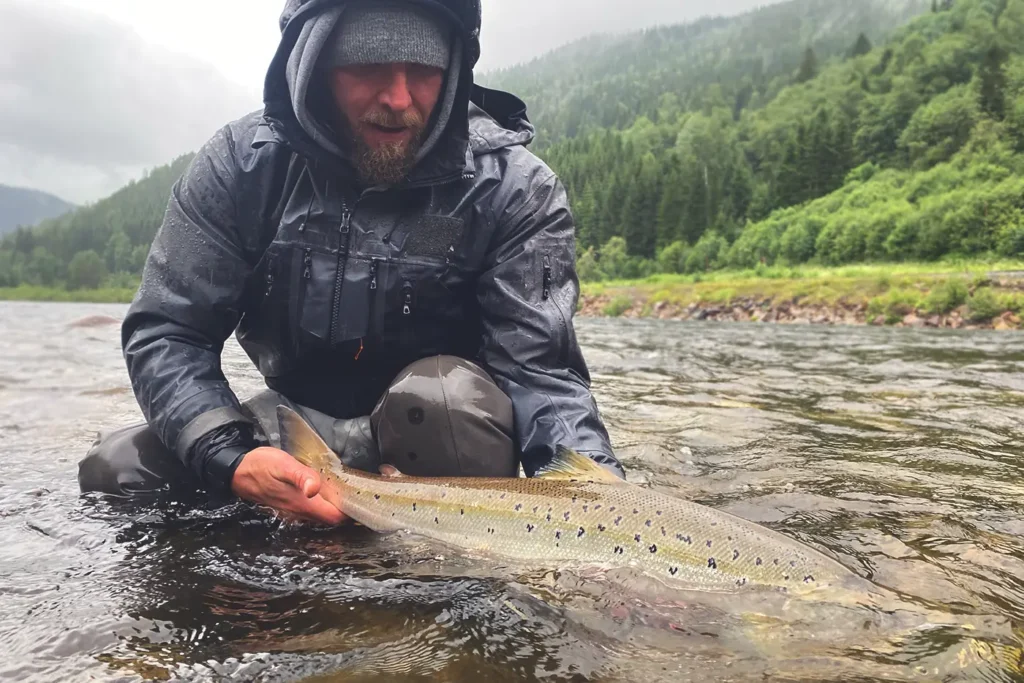 Let us address the fact that you are coming to Norway to fish on a wild freestone river, and there are a few things you should know to make the most of your experience.
First of all, being fairly fit and nimble on your feet is quite important. Why, you ask? Well, the Gaula river can be quite rugged, with uneven terrain and rocky surfaces. To get to those prime fishing spots, you might need to navigate through rocky shores, and shallow rapids, and sometimes wading can be necessary.  So, having good balance and agility will definitely come in handy. 
The weather can change rapidly from sunny to rainy and even stormy. It's like a game of weather roulette sometimes! That's why it's essential to come prepared with proper clothing.
And speaking of the weather, the rivers themselves can be affected by it too. When the weather gets rough, the river waters might become a bit more turbulent. But that's also when the wild salmon can be more active and easier to catch. So, if you're up for a bit of an adventure, don't let the weather deter you – just make sure you're well-equipped.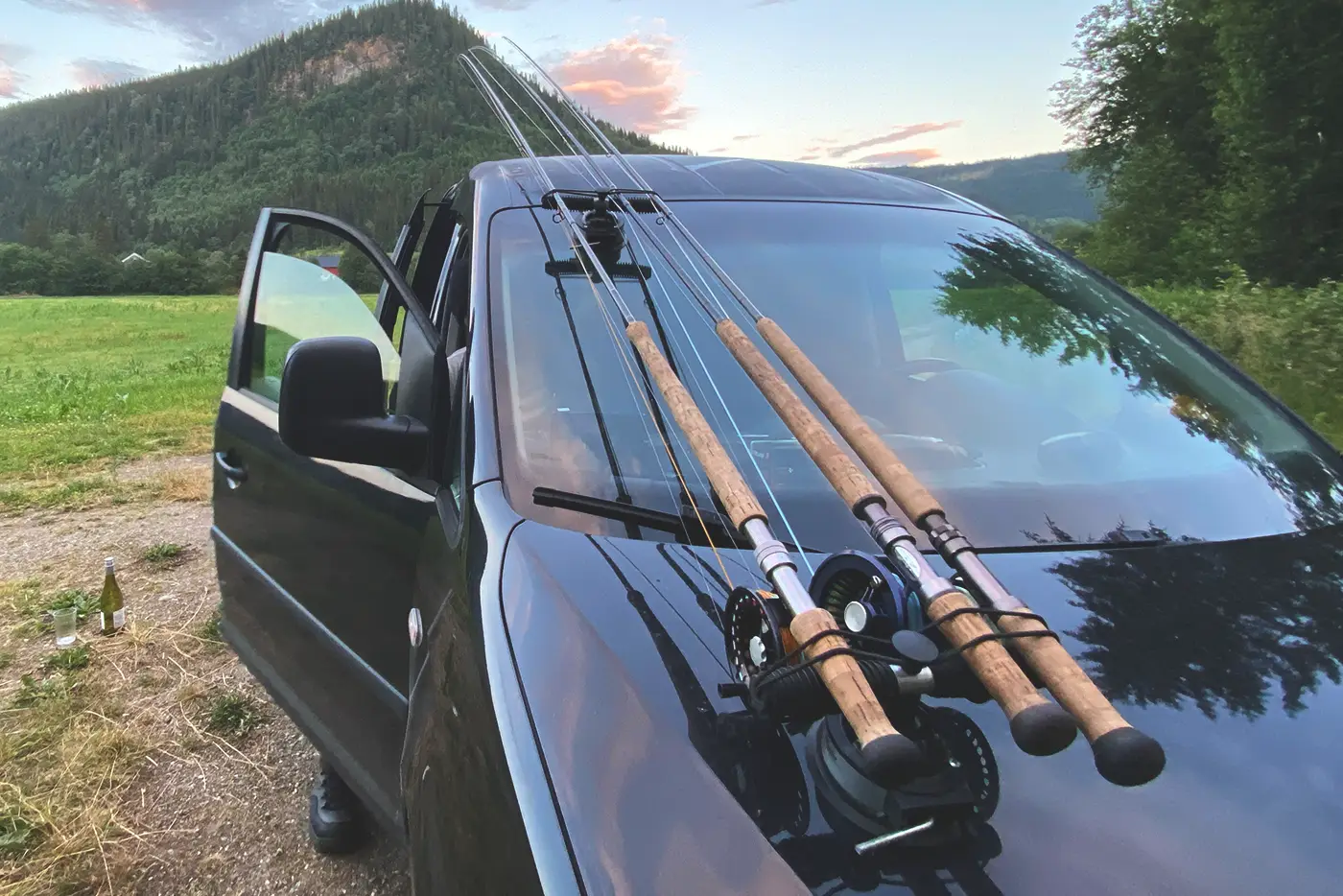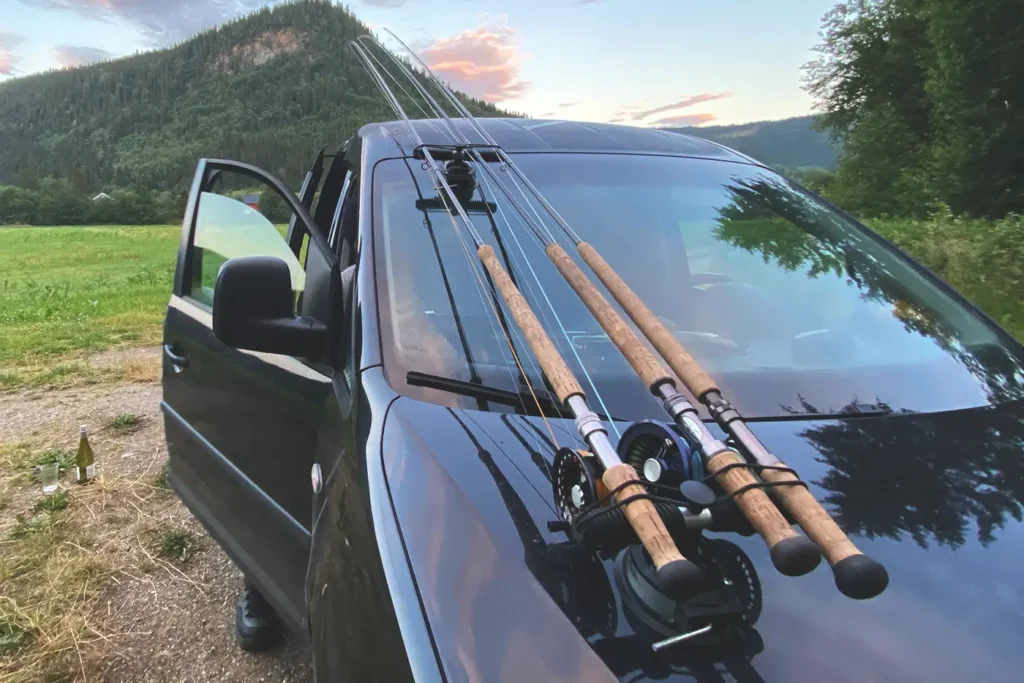 We recommend 13 to 14 foot rods in either #8/9, #9/10 or #10/11. Whilst the heavier rods are most popular in June, the #9/10 is the most versatile choice and the #8/9 a very good option after the middle of the season. Anglers seeking to fish with single hand rods should look to rods around 9 feet or 10 feet long rated at #8, #9 or #10.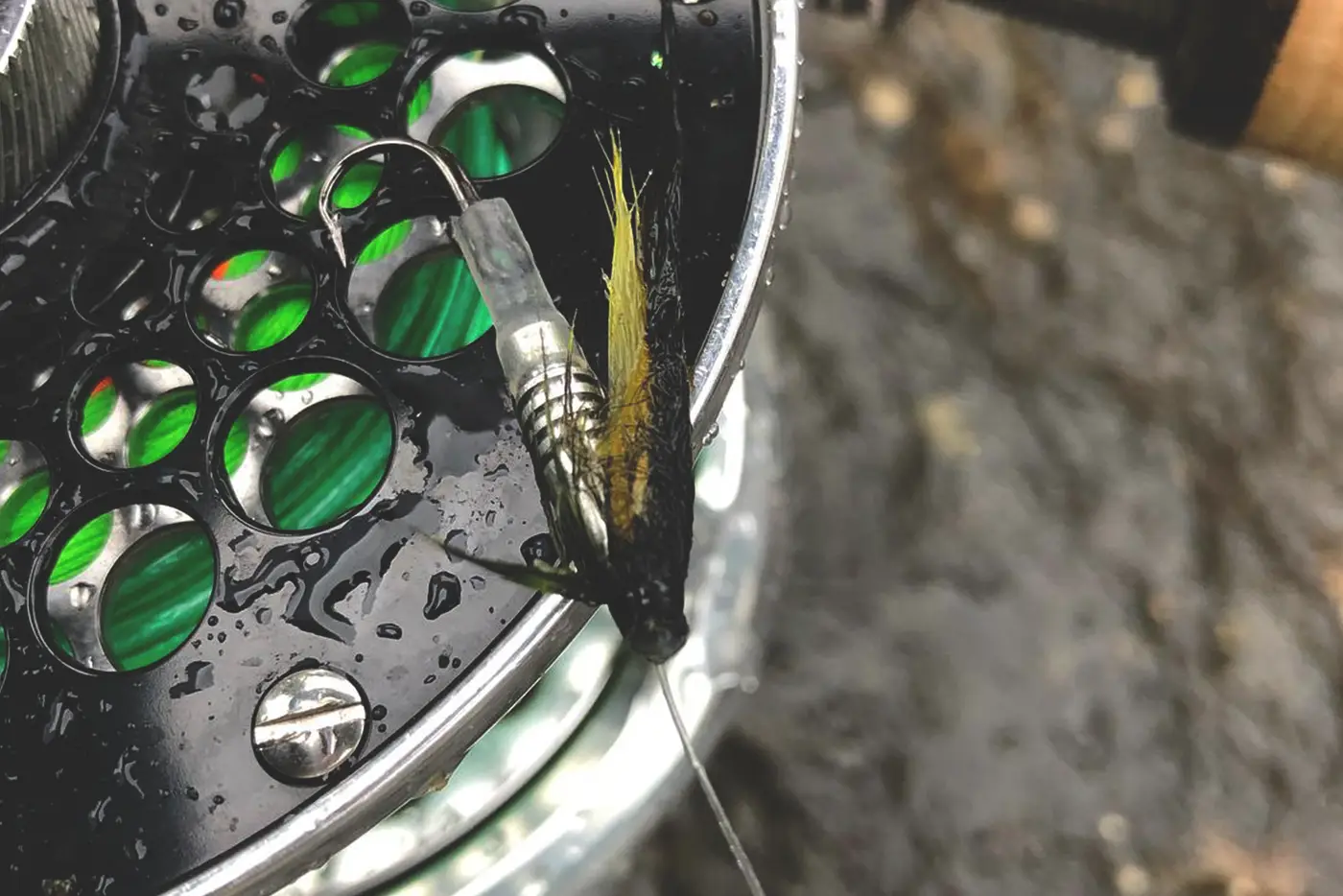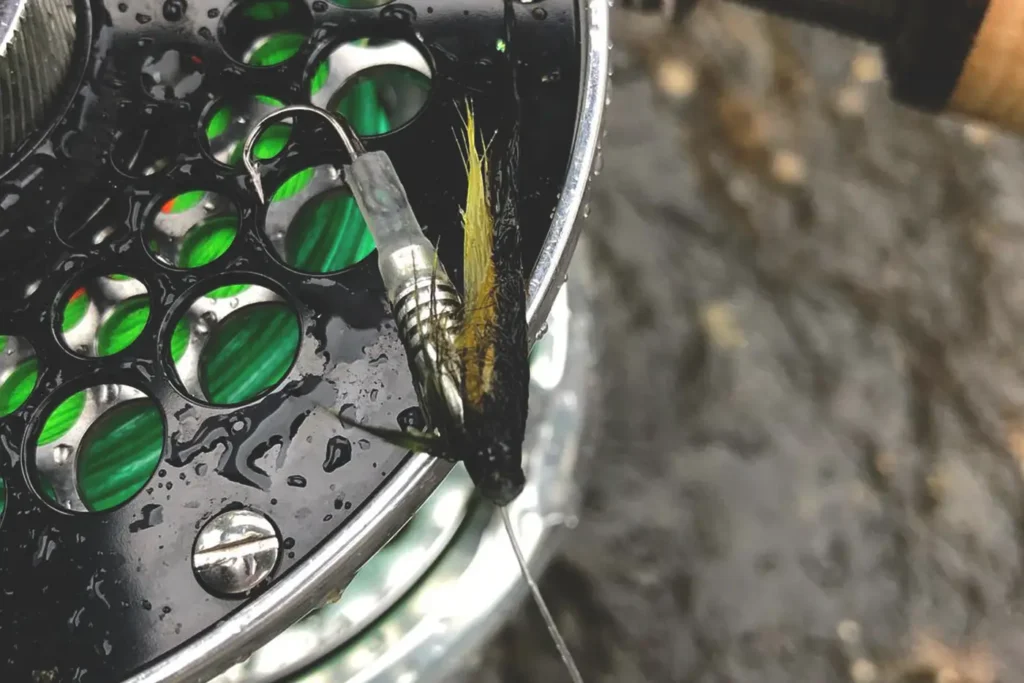 This is the area that causes our staff the most concern since many of our guests, used to salmon fishing in Scotland or Ireland, use fishing reels that are simply not up to the rigours of fighting a big, fresh-run Gaula fish. A reel with a reliable drag that can be cranked up to prevent a really big fish from running into danger. Please check that your salmon fishing reel has proper drag, not an enhanced 'clicker' and if it does not, change it!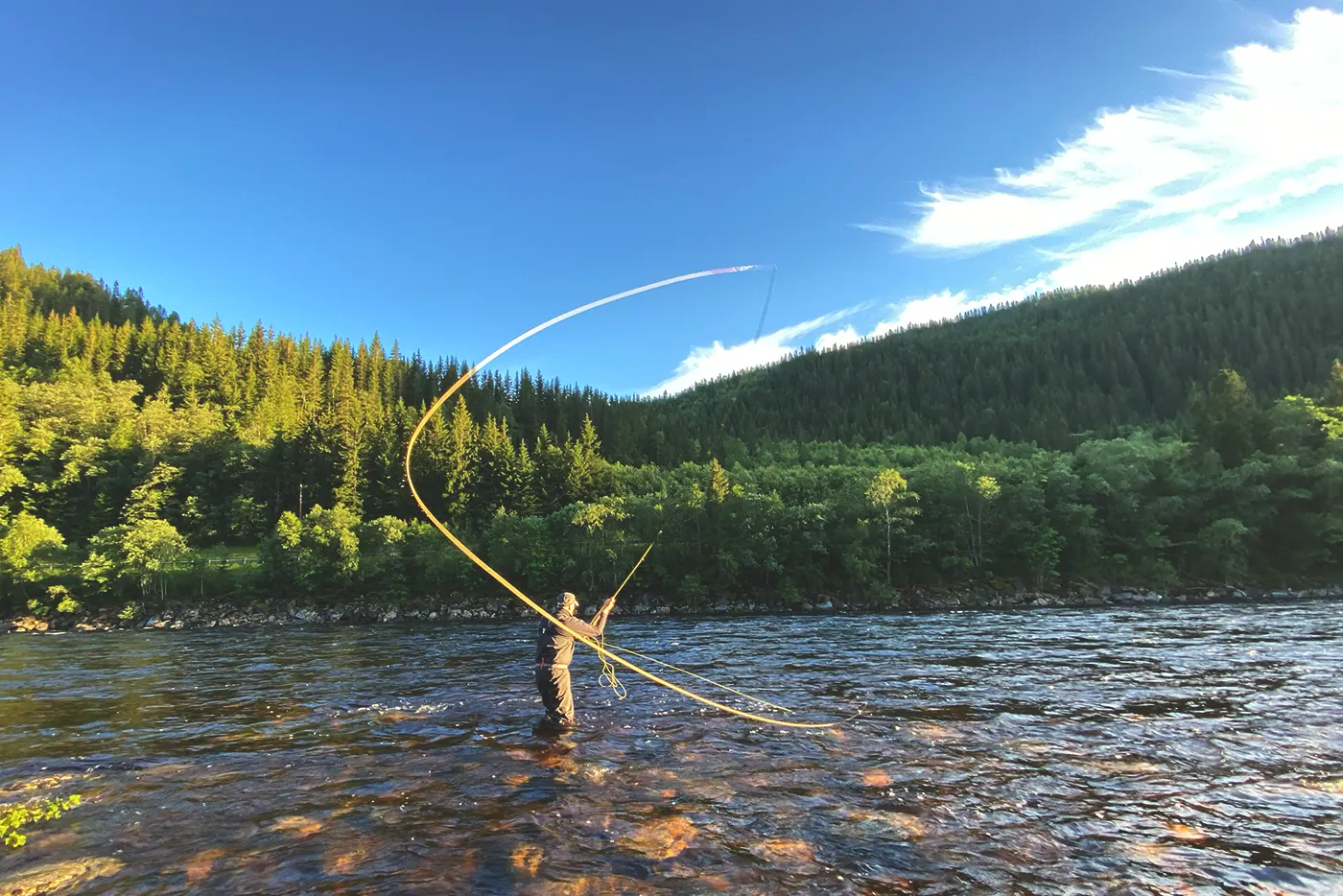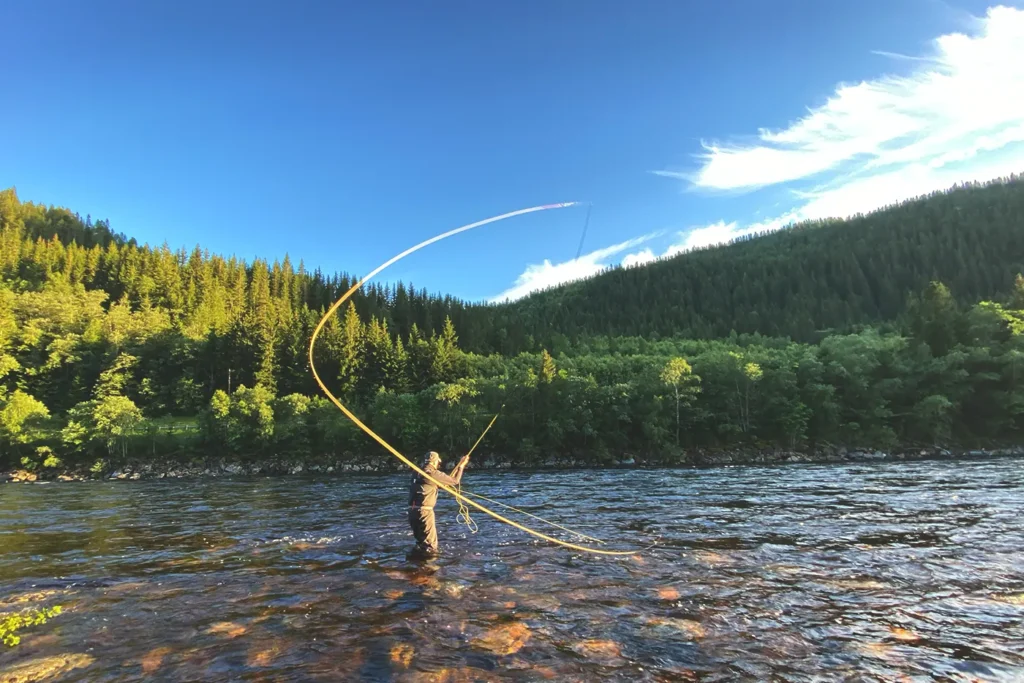 Most of our guests use shooting head fly lines and we keep a good stock of the lines that we most commonly use. Shooting heads are shorter, easy to change and available in a whole range of combinations of different sinking densities from full floating through to deep sinkers and lines which combine densities for improved presentation. 
Lines, flies etc, can be purchased in our lodge shop but guests can, of course bring their own. 
We use and recommend lines in various sinking rates and densities, depending on the conditions and our staff are trained to help you choose the best line given the prevailing conditions and if necessary, modify them so that they work at their best with your rod. 
Whilst shooting heads are the most popular choice, traditionalists will like the fact that Spey lines also work well on Gaula.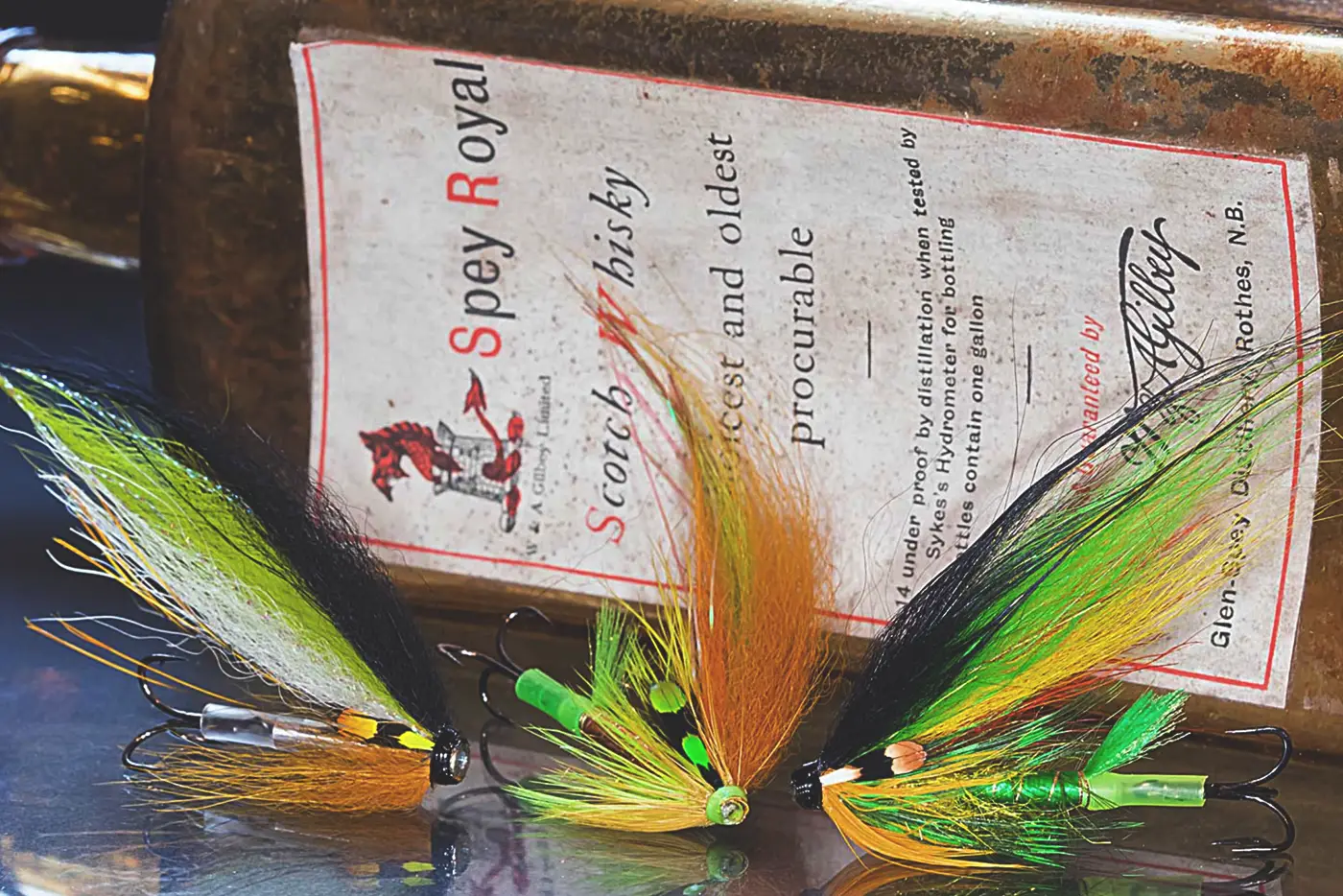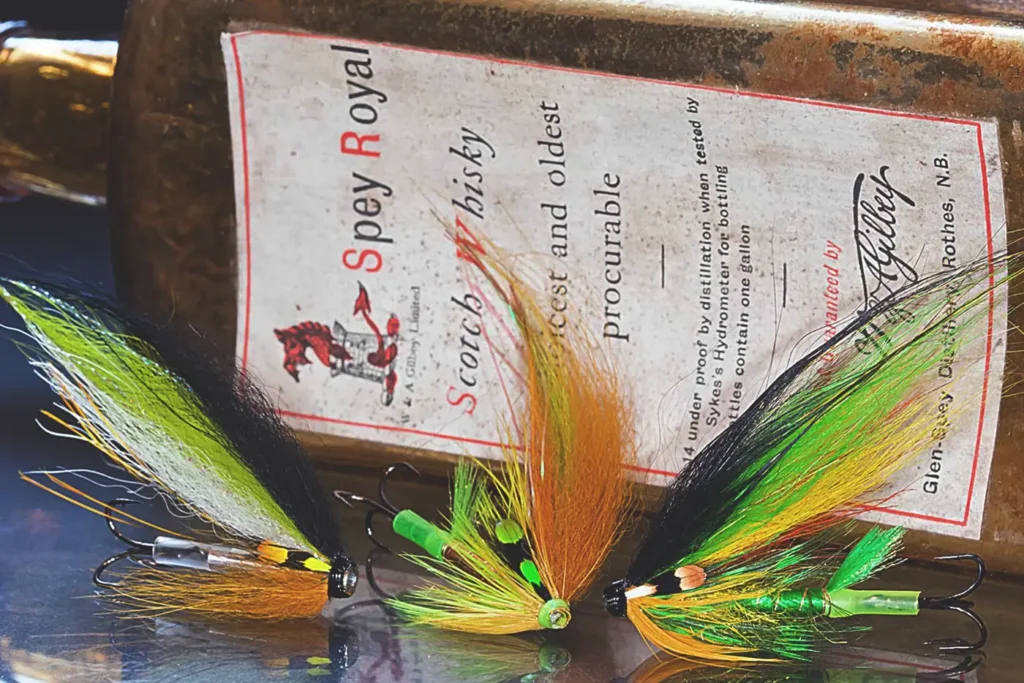 Flies big and small will be found in a typical Gaula fly box, such is the difference in the water level throughout the season. As a general rule, we use big tube flies on big colored water, and we change to smaller flies on skinny and clear water. We have all the necessary flies available in our shop on arrival.  
Generally speaking, tube flies are the most popular choice because Gaula fish just love to take a swipe at them! The mobility of modern winging materials and arctic furs has created flies that are so mobile and sinuous in their movement that they are hard to improve on. In trying to create that 'illusion of life' that a good salmon fly should possess, the modern fly tying materials have transformed the art of fly tying.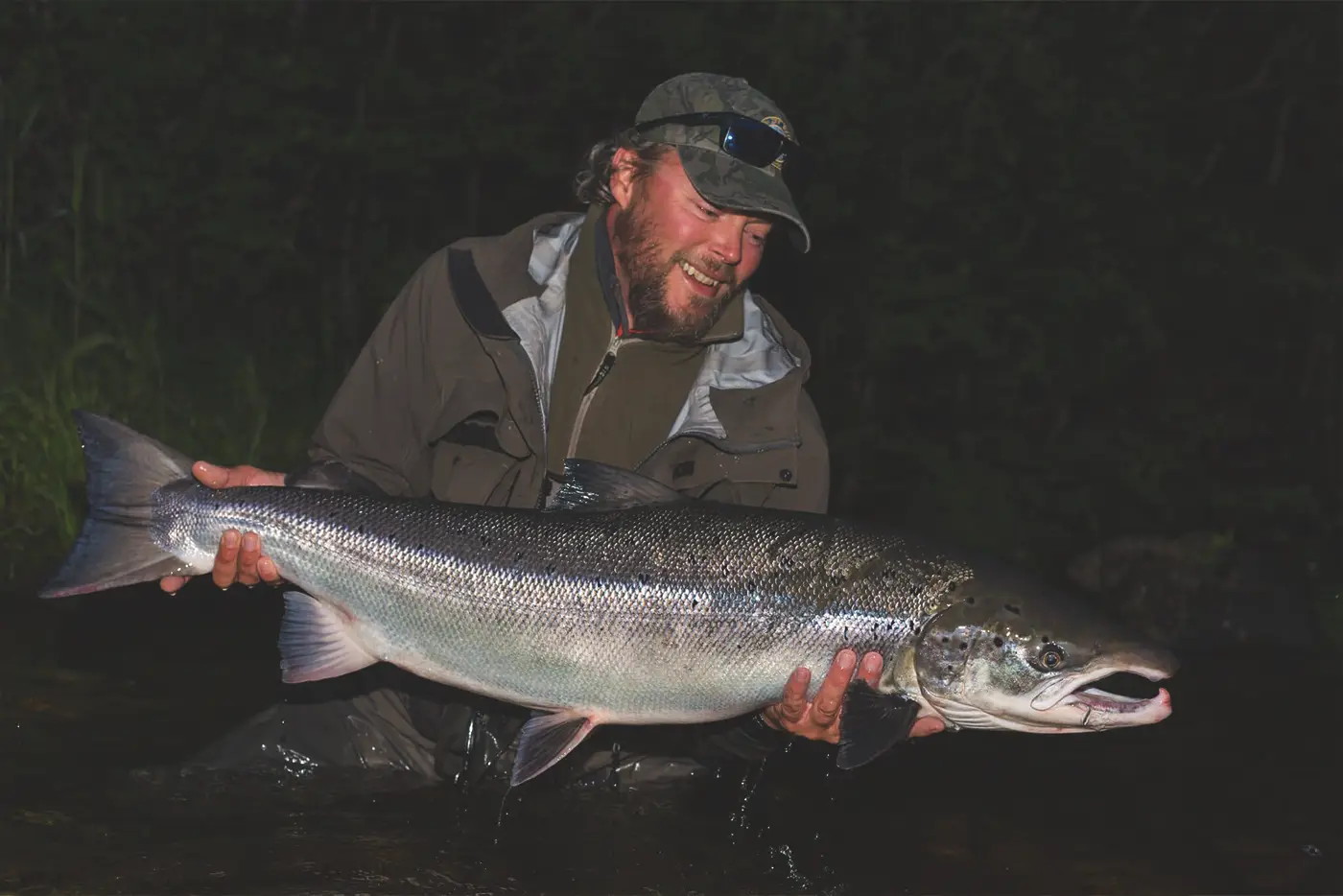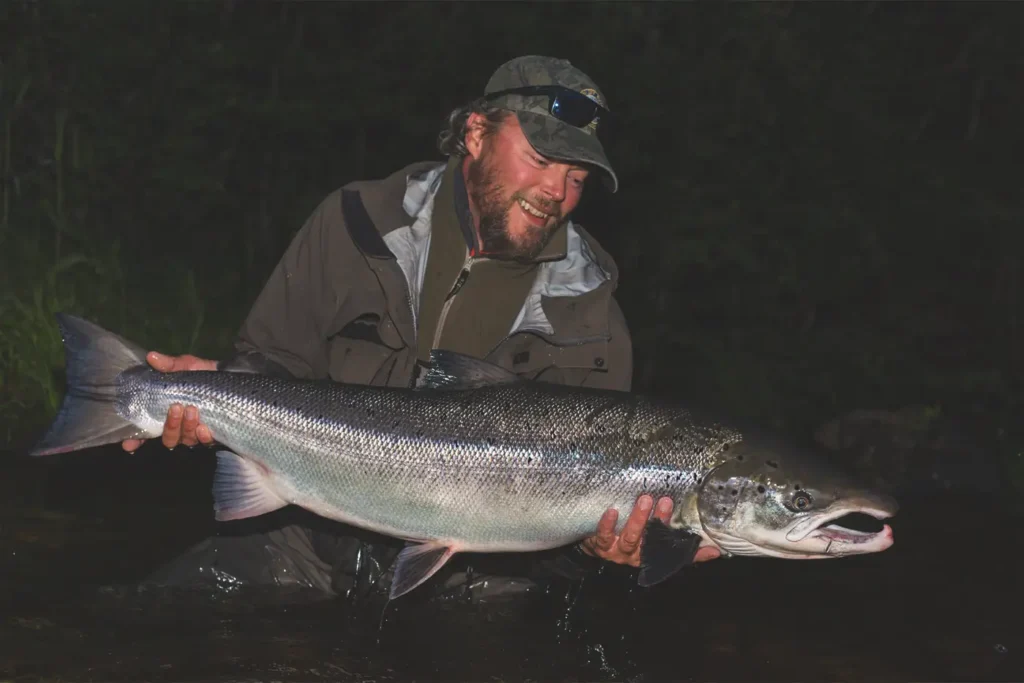 Prepare yourself for an exhilarating challenge when fishing for the mighty Gaula salmon in Norway's robust currents. The Gaula salmon is known for its remarkable strength and the fierce fights it puts up, especially when battling the forceful river flows. To ensure success, every aspect of your fishing equipment must be up to the task, leaving no room for weak links.
For optimal results, we highly recommend utilizing a fluorocarbon tippet with a minimum strength of 30 lbs (0.43 mm). In specific scenarios where the water is shallow, clear, and the sun is shining brightly, you might consider scaling down to 23 lbs (0.37 mm) to match the conditions.
As you delve into the realm of hooks, it's essential to address their significance as the potential weakest point. In this regard, we recommend selecting hooks crafted by esteemed brands like Owner, Guideline, or Fulling Mill. These reputable manufacturers are renowned for producing hooks that can stand up to the demanding challenges posed by the Gaula salmon, offering you the best chance for a successful catch.
Embrace the strength of the Gaula salmon and equip yourself with top-tier gear, setting the stage for an unforgettable angling adventure.
If you want equipment for rental or for us to pre order, please fill in this form.